Ah, the holidays. A time when the ADD TO CART button on e-commerce sites sees more action than a mistletoe. In fact, this year, Cyber Monday shoppers helped set a new record at $6.6 billion in sales.
If your e-commerce business wasn't part of that conglomeration of spending, we have one word that can keep your spirits (and sales) merrier than ever.
CONTENT.
Yes, I said it again. Content.
I know what you're thinking: My product is my content, I don't need more.
You're only half right. Your product is your content, but it takes more than slapping a pretty picture on an email blast for buyers to click that coveted button. You need a content marketing strategy. Those three simple words have been proven to generate leads, enhance brand loyalty and increase direct sales, all by snagging your customer's attention away from your competition. Don't believe me? Check out these stats from Demand Metric:
Content marketing generates 3X more leads than traditional marketing, and it cost 62% less
70% of people prefer to learn about a brand via articles, not ads
82% of consumers view a company more positively after reading custom content
60% of people seek out a product after reading content in which it was featured
78% of consumers believe custom content helps them build a relationship with a brand
Ok, so now you're convinced you need content, but do you know what kind? Content ranges from blogs to videos, with a zillion other things in between. But not all content works for every business, especially when it comes to e-commerce. Here are a few you'll want to try:
USER-GENERATED CONTENT
As an online biz, all it takes is one click for a potential buyer to be off to the next site. User-generated content, like reviews, can definitely help consumers make an informed buying decision. I bet you didn't know that 92% of consumers actually read online reviews. This is where your product (and customer service) can shine like Rudolph's nose in a snowstorm. Not only do review platforms help shed light on your goods, they also help your business' SEO ranking. Just make sure to encourage reviews, because the recent ones get the love.
EXPLAINER VIDEOS
We all know video is the reigning king of content, and e-commerce sites can really use its cache to their advantage. Especially since 4x as many consumers would prefer to watch a video about a product than read about it. Explainer videos can be a great way to engage your consumer, inform them about your product (or service) and add personality to your brand. I love this example from DollarShaveClub.com because they managed to turn a ho-hum product like razors into an irreverent and cheeky personality that consumers ate up like those cheeseballs at the office holiday party. PS: this startup is now worth $615 mil. Just sayin'.
GIFT GUIDES
If you sell multiple products, gift guides are a great way to get them in front of your consumer in a fun and not-so-salesy way. Remember when I said you couldn't just slap a picture on something and call it a day? I take that back. Kinda. I love how Crate&Barrel separates their guides into categories and uses beautiful imagery to showcase each must-have piece. They even use a little video too. Boom.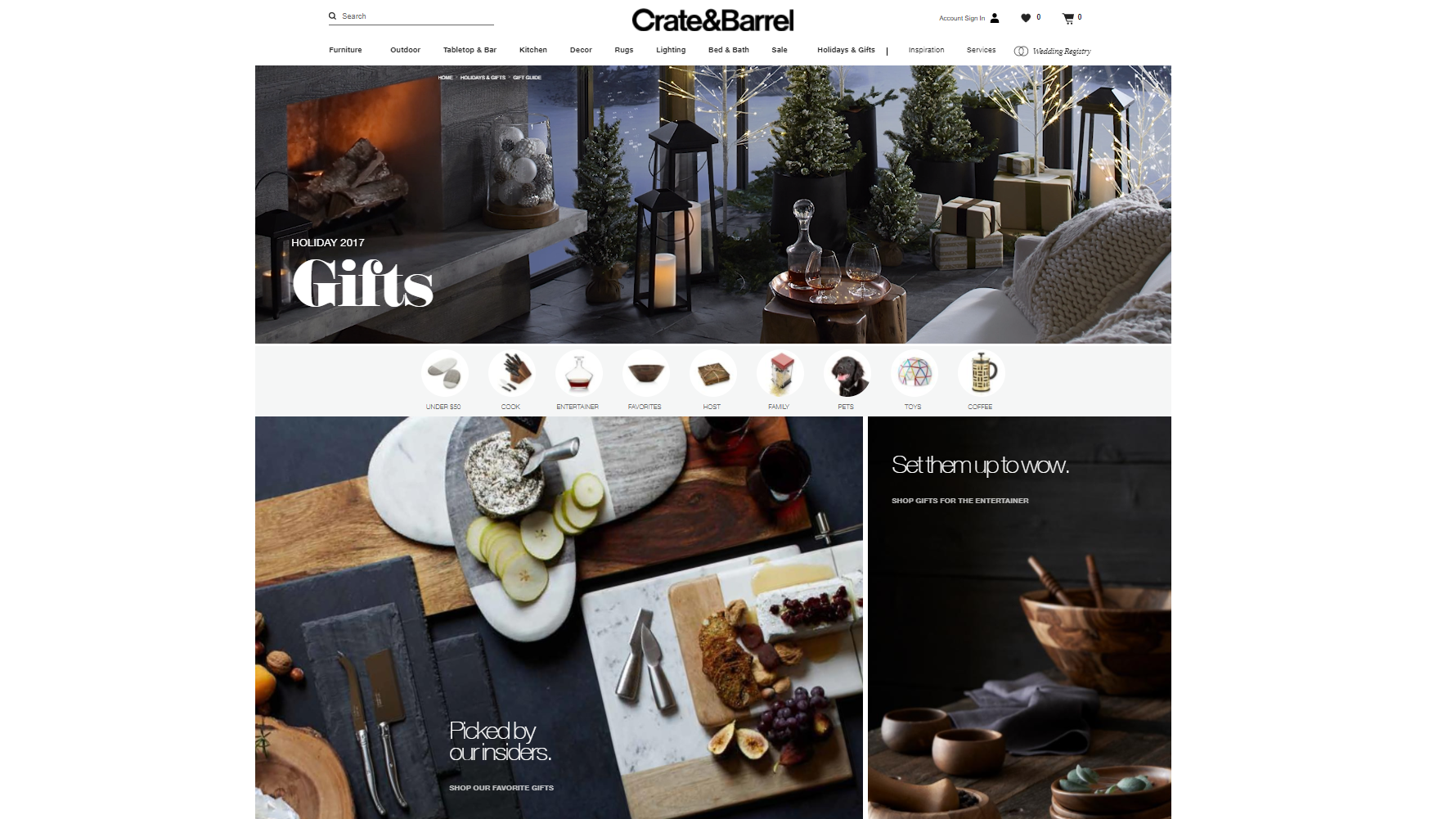 Whatever content you decide works best as part of your strategy, remember to keep it compelling and action driven. After all, you want your consumer to purchase NOW. But if you'd rather have it figured out for you, call (or email, or stop by) VIRGEN Digital Brand Marketing. We'd love to help you start 2018 off right!