Last week, we posted about the Top Marketing Trends of 2017 (So Far) and how they will impact brands and marketers alike. Well, now I get to be a bit of a Debbie Downer here and present to you the Biggest Marketing Fails of 2017…so far, of course, as there is still plenty of 2017 left for more people to muck it up. (Let's hope they don't though.)

While we could post plenty of "fails" in this blog, let's just focus on three main offenses. Shall we?
1. Adidas' Boston Marathon Tweet Snafu
Adidas is a global sportswear brand, who got their start in creating athletic shoes, so it makes sense for them as a brand to jump into the social conversation that was surrounding the Boston Marathon this year. They ended up with a tweet saying "Congrats, you survived the Boston Marathon!"
Yup. That happened.
For those not familiar, there was a tragic bombing that took place during the Boston Marathon in 2013 leaving many injured and some even losing their lives, so to tweet anything along the lines of "surviving" the race was in poor taste. Thankfully, they were able to redeem themselves by removing the tweet and sending out an apology to their followers. Next time, maybe get a few extra eyes on that tweet before hitting send? Just a thought.
2. Dove's Bottle Blunder
Dove has always been known as a brand that touts body positivity, which is reflected in their "Real Beauty" campaign going on 15 years now! So, it was a bit alarming when they released their limited-edition body wash packaging in the U.K. that were shaped to reflect different women's figures.
Let's just say it did not go over well. While the promotion was well intended, many saw the underlying message as the exact opposite of what their "Real Beauty" campaign is all about. Dove was trying to show that women come in all shapes and sizes and should be celebrated, while the public saw it as exploiting women's insecurities. Also, women aren't bottles.

3. Pepsi, Kendall Jenner and A Whole Bunch of Nope
Of course, we saved the best (or worst?) for last.
Where do we even begin with this one? In a nation that has been so divided on so many different issues this year, we've seen a lot of brands subtly (or not so subtly) claim their stance on some of those issues through their advertising efforts.
Pepsi attempted to do this as well with their "Live For Now" spot featuring Kendall Jenner. The public was having none of it. One of the main problems was how vague Pepsi was in addressing many of the social issues that were surrounding the nation at that time. Protest signs with generic sayings and hearts don't give credit to any of the real-world issues which the spot looked to shed a light on. Plus, are we really to believe that giving a Pepsi to an officer of the law is just going to make everyone's problems go away? Hard pass!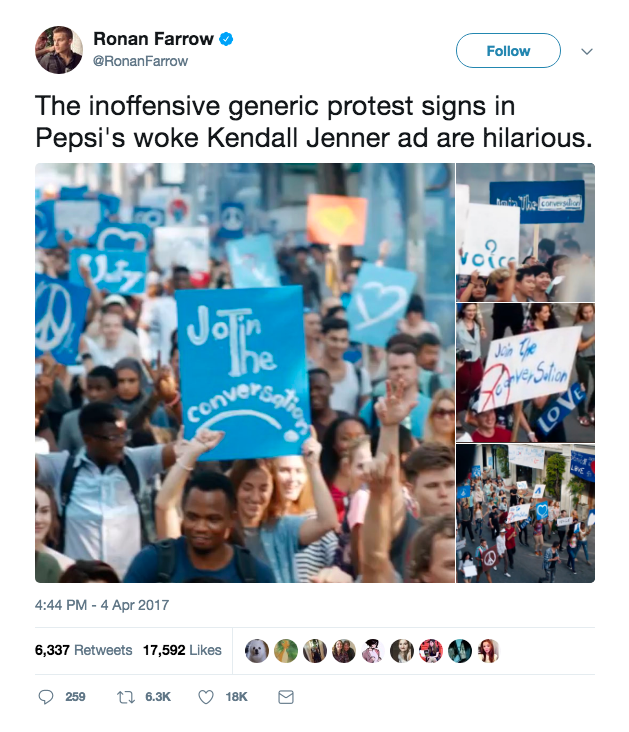 So, if you are looking to put yourself in the list of "wins" over the "fails", consider VIRGEN Digital Brand Marketing to help guide you to success.