When Netflix took a chance on the Duffer Brothers and picked up Stranger Things, they undoubtedly had no idea of the phenomenon it would become. Not only was the cast young and unknown (with the exception of Winona Ryder, of course), it was originally only meant to be a limited series with no season 2 in sight. While there was some marketing behind season 1, it really built a following thanks to word of mouth and fans were soon demanding a second season. Netflix happily obliged. So, now that the series has taken off, Netflix and the showrunners had to be more deliberate in how they advertised season 2 to keep fans wanting more. After all, season 2 wouldn't come until a little over a year after the season 1 debut. *gasp*
Today, we are going to examine how Stranger Things turned elements of the show into a full-blown marketing campaign leading up to season 2's much-anticipated release.
1. Partnership with Kellogg's
If you are familiar with the show, you know that the character Eleven's favorite food is Eggo waffles. Initially, the showrunners did not go through the traditional route of asking permission to use Kellogg's products in the show, but after reaping some of the brand-awareness benefits, Kellogg's was quick to accept the free exposure. The first sign of this budding relationship was back in February when Netflix surprised viewers with a :30 ad announcing the premiere of the new season during the Super Bowl. Now, Netflix has always put some money behind advertising of their shows, but to play with the big boys they needed to call in some reinforcements. Hello Kellogg's. They worked with Netflix to create the ad which starts with a throwback Eggo commercial, then cuts to scenes from the new season. The brand exposure worked, because that video has since racked up 16.5 million views.
But, it doesn't end there. Eggo will also be present during an October 26th red carpet event boasting an Eggo waffle food truck that will serve up custom waffle dishes. They've also created media drops featuring a custom toaster that emblazons waffles with the Stranger Things logo and the saying "Mornings are for Eggo and contemplation". In the digital realm they will include social media and web components like a Google Chrome extension that blocks spoilers and an Eggo-filled binge-watching menu. Safe to say this partnership is piping hot.
2. Marketing Activations
Along with traditional and digital advertising, Netflix also explored multiple activations surrounding events that tied well with the show and the brand. One example was the Stranger Things exhibit on display at the International Comic-Con in San Diego this past July. The exhibit contained many elements from the show including a look at The Upside Down, props and costumes, and a shrine dedicated to the beloved character Barb (#JusticeForBarb!). They also took to the streets during the New York Comic Con by releasing a group of "Elevens" with Eggo watch party kits (see partnership perks above) as well as a group of "Dustins" to ride around on pedicabs. (Bikes are a pretty prominent piece in the show in case you were wondering.)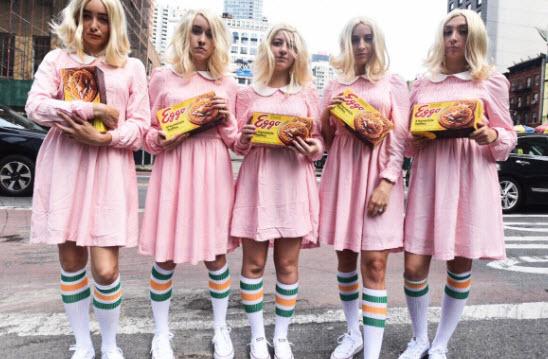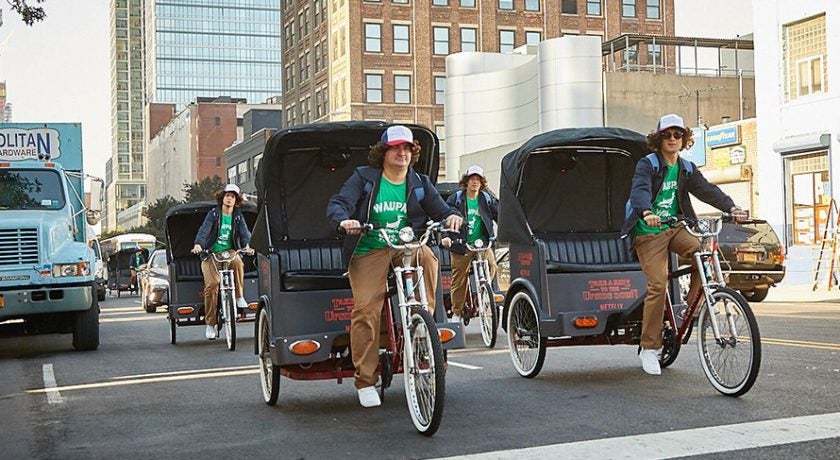 3. Ride the Wave of Nostalgia
It's no secret that nostalgia played a huge role in the rise of Stranger Things. The show's creators weren't shy about admitting much of their inspiration was drawn from 80s movies like The Goonies and Close Encounters of the Third Kind. So what did the Stranger Things marketing team do? They capitalized on the 80's obsession by recreating posters of popular films like A Nightmare on Elm Street, Firestarter and The Evil Dead to feature the Stranger Things cast. Could they be clues into what season 2 may hold? Guess I'll just have to update this blog on October 28th! (Note: I am a self-proclaimed binge-watching champ).